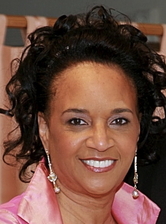 Vivian L. Carpenter is President of Supreme Communications Group, L.L.C. and has just completed The Fifth Letter, a present day political thriller about the United States Supreme Court. She is also President of Atwater Entertainment Associates, L.L.C (AEA) that held a significant interest in MotorCity Casino in Detroit, Michigan. MotorCity Casino was a joint venture with Mandalay Resort Group (NYSE:MRG). Atwater sold its interest in MotorCity Casino in 2005 as part of the MGM/Mirage Mandalay Resort Group transaction.
Dr. Carpenter has three earned degrees from The University of Michigan: Bachelor of Science Degree in Engineering (Industrial and Operations Research), Master of Business Administration (M.B.A.) and Doctor of Philosophy (Ph.D.) in Business Administration. In 1985-86, Dr. Carpenter spent a year on postdoctoral studies in Economics and Public Policy at The University of Chicago.
From December 1999 to April 2005, Dr. Carpenter served as Chair of the Management and Audit Committees of MotorCity Casino. She also served on the boards of several other casino-related entities, as well as serving on the Board of Directors of Detroit Commerce Bank, Detroit Black Chamber of Commerce, United American Healthcare Corporation, Front Page Newspaper, Atwater Foundation, and The Alumni Board of The University of Michigan Ross School of Business, The Detroit Institute of the Arts and Detroit Regional Chamber of Commerce for many years. Currently, she serves on the Board of Directors of the Detroit Music Hall, Willits Residential Condominium Association, Chicago Area Pre-Science and Engineering Program, and The Henry Ford Hospital Foundation.
From August 1992 to August 2000, Dr. Carpenter served as the Assistant Dean and Associate Professor of Accounting at Florida A & M University's (FAMU) School of Business and Industry (SBI). She has been an Assistant Professor of Accounting at Wayne State University and a Visiting Professor of Industrial and Operations Engineering at The University of Michigan College of Engineering. Dr. Carpenter was a licensed certified public accountant for thirty years, having passed the uniform C.P.A. examination on the first sitting in 1975. She was first licensed in 1977, after gaining her professional experience at Arthur Andersen & Company. She served as Deputy State Treasurer for the Michigan Department of Treasury under the administration of Governor William G. Milliken.
Dr. Carpenter's research focus is institutional theory and public sector accounting innovations. She has taught financial statement analysis and stock price valuation in the M.B.A. Program at FAMU and Wayne State University, as well as advanced accounting at The University of Michigan. She also served as a member of the Governmental Accounting Standards Board Service Efforts and Accomplishments Project Team. She is a member of the American Institute of CPAs and the Michigan Association of CPAs.
Dr. Carpenter has received a number of honors and awards. The Governmental Accounting Standards Board, Ford Foundation, and the National Science Foundation have all supported her research. Dr. Carpenter was appointed to serve on review panels for the National Science Foundation, Ford Foundation, and was a member of the Fulbright International Business Administration Review Panel. Additionally, she was awarded a $672,000 equipment grant from Hewlett-Packard to establish a computer network for faculty and staff in the SBI at Florida A & M University. In 2003, she was selected as the most distinguished alumnus of the The University of Michigan College of Engineering, Class of 1973 and participated in Spring 2003 commencement exercises.
Dr. Carpenter has received three national awards. She was awarded the National Achievement Award – Accounting Educator Award by the National Association of Black Accountants; the Author's Award from the Association of Government Accountants; and Decision Sciences Institute's Best Interdisciplinary Paper Award (out of 900 submitted papers).
Dr. Carpenter has publications in the Journal of Accounting and Public Policy, Government Accountant's Journal, Governmental Finance Review, Accounting Horizons, Accounting, Organizations and Society, Issues in Accounting Education, and International Journal of Public Administration.
In 2000 after retiring from her academic career, Dr. Carpenter was identified as one of the top 300 international scholars in accounting and invited to a research symposium at Cambridge University in England, where the academic accounting community was given notice that the current American accounting model was about to face a crisis and there was an urgent need to change the direction of accounting research to restore confidence in the accounting profession.
In 2001, Dr. Carpenter was the lead author on the lead article in Accounting, Organizations and Society, the top ranked international accounting journal. This article is entitled "Institutional Theory and Accounting Rule Choice". This article was published after her retirement from day-to-day academic life and has been cited by at least a hundred related articles since its publication.
In addition to her current publication efforts, Dr. Carpenter is involved in a number of philanthropic activities, having provided major support to The University of Michigan College of Engineering for outreach efforts to disadvantaged students. Additionally, she has worked with the Detroit Area Pre-College Engineering Program (DAPCEP) toward the goal of providing graphing calculators to Detroit Public High School students. As an advisory board member, she is also assisted in the launch of the Chicago Area Pre-College Engineering Program which has been funded by the National Science Foundation grant to improve STEM education.